Hours of Operation
Monday - Friday 9:00am - 4:45pm
Saturday 9:00am -12:00pm
Sunday Closed
Phone: 410.276.4973
Toll Free: 800.784.0783
Fax: 410.325.1916
Recycling Metals and Catalytic Converters

---
Buyers of Catalytic Converters, Used Auto Parts, and
Automotive Related Non-Ferrous Scrap Metals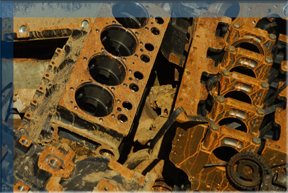 6519 Quad Ave
Baltimore, MD 21205
Phone:(410) 276-4973
marylandcore@hotmail.com

Hours of Operation:
Monday – Friday 9:00 AM until 4:45 PM
Saturday 9 AM until 12 PM
Largest core buyer in the Mid-Atlantic region. Paying the highest prices for rebuildable cores and catalytic converters.
We specialize in Automotive Scrap Metals
Catalytic Converters of All Kinds
Aluminium Radiators
Brass Radiators
Copper Aluminium Radiator

Cast Aluminium
Rims / Wheels (No Steel)

Heads
Irony Aluminium
Batteries
Steel
Transmissions
Rotors
Engines
AC Compressors
Torque Converters
Starters
Alternators
Electric Motors
Lead Wheel Weight


including some of what we don't buy
Demolition Scrap
Industrial Scrap Steel
Light Iron
Aluminium Extrusions
Red Brass
Yellow Brass
Copper #1 & #2
Find our information and some of our prices updated regularly on
iScrap online.
iScrap App also available
---
Roll off Service Available